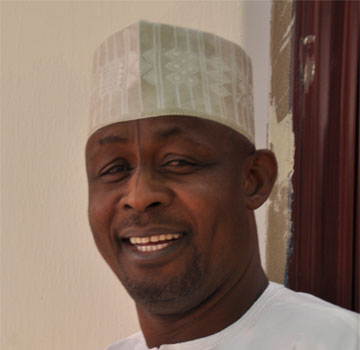 It is with deep sorrow and gratitude to the will of God that the Maternal, Newborn and Child Health Programme in Northern Nigeria (MNCH2) mourns the loss of one of its own, Dr Abubakar Izge. Dr Izge was the Senior Technical Advisor for the programme and in charge of the programme's federal level engagement. He was a leading figure in supporting MNCH2 states access the Basic Healthcare Provision Fund to sustain maternal and child health services in the region.
An accomplished public health specialist, Dr Izge had worked in the development sector for over 18 years. His experience made him very knowledgeable about Nigerian health policies and programmes. He was also very conversant with the socio-cultural issues that affected the health systems in Northern Nigeria.
His work and persona touched the lives of many: intelligent and charming, he performed his responsibilities with utmost diligence. He listened as much as he shared. For those that he managed, he mentored with a passion born out of wanting to see the best in others. These qualities earned him the admiration and respect of his colleagues and others he worked with.
His colleagues describe him as kind as he was witty; as humble as he was skilful.
Dr Izge is survived by a wife and seven children. May the Almighty grant his family, friends and colleagues the fortitude to bear this loss and the courage to carry on with the work Dr Izge was dedicated to.
May his soul continue to rest in peace.
Adieu, Dr Izge,