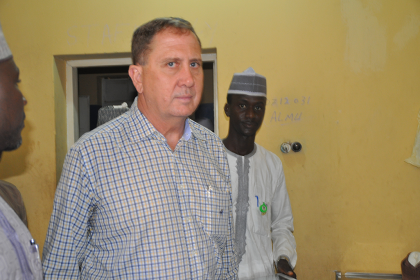 Kim Bredhauer, the CEO of the Palladium Group was in Kano for a two day visit. The CEO visited the Primary Health Care (PHC) in Gwagwarwa Nassarawa LGA in Kano State where he was taken round the health facility by the chairman of the Facility Health Committee. Also present were the village head of Gama community, the in charge of the health facility, the zonal director Nassarawa Zone State Primary Health Care Management Board, (NZPHCB), the zonal MNCH coordinator of the same board, the PHC Coordinator Nassarawa LGA and the Vice Chairman of Nassarawa LGA who represented the Chairman of the Nassarawa Local Government Area in Kano State. The CEO also met with the community structures of the MNCH2 programme in the community, like the Facility Health Committee (FHC), the Safe Space Initiative (SSI), the traditional and religious leaders and the male group.
The CEO also paid a courtesy call on the Deputy Governor of Kano State, Professor Hafiz Abubakar who represented the Executive Governor of Kano State. The Kano State Commissioner of Health, Dr. Kabiru Ibrahim Getso presented the MNCH2 programme to the Deputy Governor. He explained that the MNCH2 programme had contributed immensely to the health of the Kano populace. He said that the MNCH2 programme has contributed to the Annual Health Plan, the DRF planning, the Insurance Health Scheme which was presented to the House of Assembly in Kano on 21 July, 2016. He also added that the programme is also building capacity of health workers on integrated MNCH approach and drug management, presently renovating health facilities across the state and has developed the ISS monitoring tools and other tools that will improve the health management systems in Kano State.
The CEO expressed pleasure with the reception he was accorded and informed the Deputy Governor that there are many Palladium programmes in Kano like C4D, Propcom Makarfi and Voices for Change among others.
The Deputy Governor of Kano State expressed pleasure with the visit and explained that he was representing the Executive Governor who is unavoidable absent which he deeply regretted. The Deputy Governor expressed the fact that it is not acceptable for a woman to die during delivery nor is it acceptable that any child should die. He also pointed out that one of the major health problems that is not recognized is the nutrition of the child. He further explained that the nutrition of the child has gone unrecognized and is one of the major causes of child death below five years. He said child stunting is common not only in the rural areas but also in the urban slums. He appreciated the presence of the structures and tools put in place by the MNCH2 programme as he said that is what will sustain the health system of Kano State when the programme ends in 2019. He said that is a good sustainability strategy.