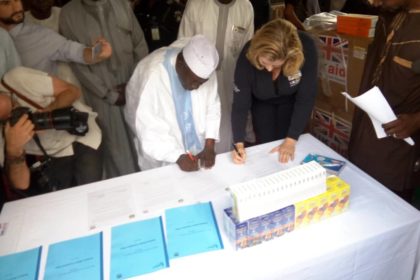 The Kaduna State Government has officially committed to sustaining the gains of the Northern Nigeria Maternal Newborn and Child Health Programme (MNCH2) by signing a letter of agreement with the UK Government, to strengthen institutional partnership in support of primary health care (PHC) systems. Formal signing of the letter took place on the 20th of July 2018 with the Secretary of State for International Development, the Right Honourable Penny Mordaunt signing on behalf of the UK Government and the Deputy Governor, Arc. Barnabas Bala Bantex on behalf of Kaduna State.
At the Badarawa Primary Healthcare Centre in Kaduna, the Secretary of State completed the formal handover of the final consignment of UK aid funded medicine and equipment to Kaduna. While at the clinic, she witnessed UK aid's contribution to the Government of Kaduna's investment in primary health systems, which is giving women and children under five better access to essential health services.
"The UK has a key role to play in ensuring Nigeria, one of the fastest growing countries in the world, has a bright, stable and prosperous future."- Int. Dev. Secretary, Ms. Penny Mordaunt
MNCH2 has contributed to improving governance, developing policies and strengthening the capacity of health care systems in the 6 partner states of Jigawa, Kaduna, Kano, Katsina, Yobe and Zamfara. Since its inception in 2014, the programme has worked with the state governments to ensure that stronger PHC systems are put in place to deliver in line with the precepts of achieving the Sustainable Development Goals (SDGs). Plans to transition the programme to partner states commenced in earnest in 2017 so that the states can take ownership and sustain the gains achieved.
As in other states, the Kaduna State transition plan identified key stakeholders and assigned roles and timelines for the planned phase out of activities which include the existing tripartite MoU on strengthening the PHC system between the UK government, Bill & Melinda Gates Foundation and the Kaduna State Government.