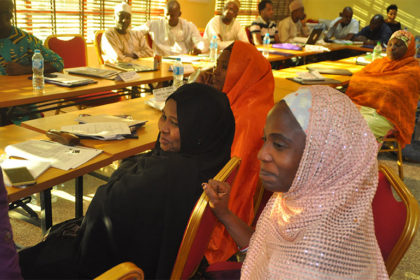 MNCH2 delivered a practical three days learning workshop to Journalists and Media professionals working in the six partner states of Jigawa, Kaduna, Kano, Katsina, Yobe and Zamfara. The aim of this activity was to improve the skill set of health reporters and producers especially on reporting reproductive maternal newborn and child health RMNCH issues. The training was facilitated by northern veterans of the industry – Sani Suleiman and Medina Dauda.
The training dwelt on the steps to take to report a well-researched story that is factual, balanced complete with a call to action that can bring about a desired response or change from the target. The practical sessions encouraged participants to identify and give workable solutions to the road blocks in their local contexts that prevent reporting or writing stories that go beyond just being a news item or mention. It also challenged them to be innovative in their approach to writing stories by exploring the current style and trends in both print and electronic media.
Apart from improving quality of reports, the training also afforded an opportunity to build bridges between the journalists, the public relations officers from the six state ministries of health and MNCH2 accountability coordinators who were also participants at the training. This is because a cordial working relationship with the state ministries will ensure access to timely information on government position and policies on health issues as well as dispel rumours. It will also build consistency and open channels to bring on board other stakeholders views and positions, required to make a balanced report. The presence of accountability coordinators who work closely with journalists in the six MNCH2 partner states also re-emphasised the programme's commitment to support the media professionals with the research they may need from time to time to contextualise their reports.
The enthusiasm of participants was evident in the manner with which they responded to group exercises that required them to work as a team and share real experiences. The peer learning and interactive method of the training made it possible for all participants to have a sense of belonging and responsibility. It was clear that the training had awakened a renewed passion for reporting RMNCH issues and commitments were made to apply the skills gained.
If you would like to learn more about MNCH2 work with journalists, contact MNCH2 Communications Coordinator, Safiya Shuaibu, communications@mnch2.com or mnch2ng@gmail.com.