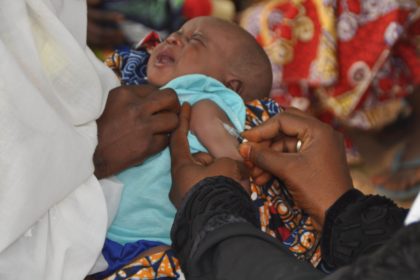 In addition to inadequate political will, weak and non-transparent budgetary processes and corruption have been identified as major contributors to poor health financing, with negative impact on the Nigerian health sector. Year after year, Nigeria falls behind the commitment it made alongside 16 other African nations in Abuja in 2001 to commit at least 15 percent of their annual budgets to improving their health sector.
MNCH2 has been supporting Kano State Government in evidence-based health planning and budgeting over the years. We have seen significant success with a sharp rise in budgetary allocation to the health sector from 6% in 2014 to about 12.1% in 2017.
A major setback for the future of health services
Despite the progress, the proposed 2018 budget allocated 10.7% to health sector, jeopardising the gains of our past efforts. We engaged with various stakeholders including the Ministry of Health, Ministry of Planning and Budget and the State House of Assembly. We also alerted CSOs and the Accountability Mechanism in Kano State on MNCH (AMMKas). The House Committee on Health convened an emergency meeting to discuss the situation.
Women and children to benefit from seven billion increase
In the meeting in December 2017, MNCH2 presented to the Rt. Hon. Speaker of Kano State House of Assembly, Principal Officers of the House, Members of House committees of Health & Appropriation, Commissioner of Health and Heads of Health sector MDAs, and CSO representatives a justification for a health budget increase. After consultations, the State Governor gave his approval. The revised 2018 budget is now 13.01% – an increase of over seven billion naira.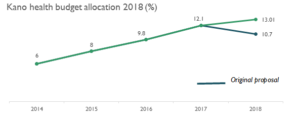 The Rt. Hon. Speaker set up a committee, comprising of representatives of the House Committee, Ministry of Health, Ministry of Planning and Budget, CSOs and the MNCH2 team, with a mandate to come up with areas that require an increase in the budgetary allocation. All of the committee's recommendations have been approved. Increases will include human resources, coordination, free Maternal and Child Health provision, renovation and facility improvements.