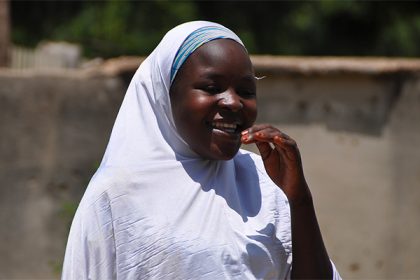 Violent conflict, environmental disaster and being an adolescent girl in a developing country. Some of the most dangerous experiences in a person's life, and with long-lasting impact on one's future prospects. Millions of girls experience all three.
This has too often been the reality in northeast Nigeria. The oil-rich nation – no longer considered a developing country – comes 16th in the number of teenage pregnancies, and has the highest maternal mortality in Africa. The figures are worst in the northern parts of the country which, already left behind by the economic growth, has been devastated by the insurgency of the anti-education extremist group Boko Haram.
During the seven-year uprising, 2.6 million people were driven from their homes, 20,000 were killed and thousands of girls are believed to have been abducted. They may not have a hashtag, but there is no girl in northeast Nigeria whose life was not changed by the conflict.
Already less likely to go to school – a 15-year old girl is twice more likely to be married than at school – after the conflict, very few have been able to continue their education, their pathway to a financial independence. Many were married off during the years of displacement. Now, on the verge of one of the worst food crisis the world has seen since the second world war, poorer families feel pressured to marry off their daughters at even a younger age for a dowry and to prevent public shame as the girls become easy prey for men who want to take advantage of their vulnerability (including some of the thousands of government soldiers sent to protect the region).
But this has been no victory for Boko Haram. The destruction under the banner of forbidding western education only made people value education more than before, having seen what its absence can do. As Binta Adamu, a health worker from Katarko, one of the completely destroyed communities, notes, "Before the unquestioned norm was to marry the girls before they turned 14. Now I'm starting to see more and more delaying until they are 17."
The UK-government funded Maternal, Newborn and Child Health (MNCH2) programme has been working for women and girls in northern Nigeria, including Yobe, one hundred miles from the epicentre of the insurgency. While the programme addresses long-term issues in the health system, it has introduced community interventions such as 'safe spaces' for women and girls. The 'safe spaces' provide a unique judgement-free environment where girls can talk about sensitive issues, but tend to centre on their caregiving and reproductive role. This may feel frustratingly stereotype reinforcing and low in ambition, after hearing a girl open up about her dream to become the first barrister in her community; or another worrying about the impact of climate change. Yet, without the knowledge of and access to family planning, these ambitions will stay out of her reach, and that of the children she is bringing up. It may be baby steps to female empowerment, but as one of the participants, a 15-year-old mother of one, attests: "Without the safe space, I, for one would be pregnant again."
While protecting girls after a crisis is an end in itself, girls must be seen as playing a central role in the development process. Supporting girls in their transition into adulthood helps the country heal and prevents history from becoming the future. It is not about making them passive beneficiaries of external interventions, but about giving the whole region the opportunity to benefit from an untapped source of wisdom and resilience.
Read the full story 'How to be a Girl After Boko Haram' here.