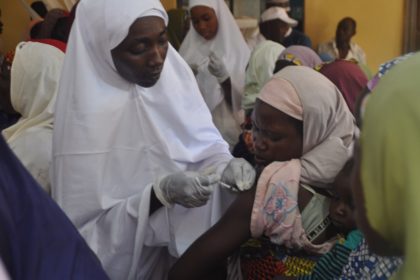 Kano State, the most populous in Nigeria, is known as the 'centre of commerce'. Yet there are only 359 medical doctors serving its growing 13.4 million population. There are around five times as many nurses and midwives – but this doesn't amount to even two health professionals per 10,000 population, compared to the World Health Organization's (WHO) threshold of 45. Local governments use community health workers to fill some of these gaps, but most have not received training to be able to deliver comprehensive maternal, newborn and child health services. In addition to building the capacity of these service providers, MNCH2 has been advocating for policies to address this human resource crisis.
One such solution is the task shifting and sharing policy, which the Executive Governor of Kano State, Dr Abdullahi Umar Ganduje launched in November 2017. At the event, the state's Health Commissioner, Dr Kabiru Ibrahim Getso, said this will help ensure that the healthcare system is working optimally; address human resource for health gaps; and improve the quality of services provided by all cadres of health care workers.
Sharing improves caring
The task shifting and sharing policy is about redistributing work among health workers, so that lower health worker cadres can perform specific tasks previously requiring highly-qualified professionals.
Amina Saleh is a community health extension worker at the Gwagwarwa Primary Health Centre in Nassarawa LGA. She believes that the policy is already helping save lives. During her ten years as a health worker, she has referred women to the hospital to receive essential services from nurses and midwives. "We'd usually refer four to five cases of per week."
"But some lost their lives due to the delays caused by shortages of staff at the secondary health care facilities. Some people think that we are referring just to avoid our duties."
Amina mentions incidents where patients came with mild bleeding that she could have managed but was restricted by regulations.
"Many patients came in after prolonged labour, with high blood pressure or convulsions. We were always mindful of the jurisdictions and ethics of the profession."
"I was the health worker on duty in the maternity section one night when a woman in her late 30s was brought to the clinic – she was obviously in labour. When I checked her, I found out that she had a high blood pressure, followed by excess bleeding. I quickly referred her to the general hospital."
On following up, Amina learnt that the woman had lost her life. "This was a bitter experience for me."
Up to the task
Amina admits the community health workers didn't always have the capacity to deal with different cases, but this has changed with the training from MNCH2: there has been hardly any referrals from the facility in the past year.
She believes that the task shifting and sharing policy will go a long way in enabling health workers of all cadres provide services to women and children, but the training ensures she is up to the task.
"My priority and dream in this profession is not the money, but to save lives. The MNCH2 training is making my dream come true."