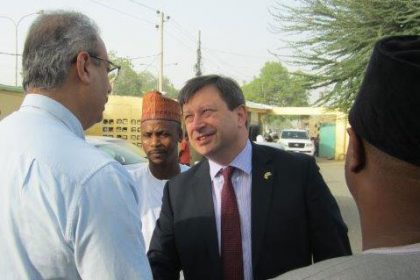 The British High Commissioner to Nigeria, Mr. Paul Arkwright and a team from the DFID head office Abuja, came to Kano for a 2-day visit. He was in Kano to meet with the Executive Governor of Kano State, Dr Umar Abdullahi Ganduje and the Emir of Kano, Emir Muhammadu Sanusi II. The British High Commissioner in an interview with Daily Trust, who asked why he was in kano replied, "I am in kano to see for myself what the Department for International Development (DFID) is doing in Kano State, northern Nigeria as a whole and consider recommendations. From what I have seen, i will recommend for further cooperation between the United Kingdom, Kano State and other states."
During the visit, the British High commissioner visited the Bamalli Nuhu health facility which is supported by the DFID funded MNCH2 programme in the middle of the city of Kano. The health facility, is situated at Kofar Nassarawa, one of the famous 12 gates of Kano city. It is along the Emir's Palace road and is a maternal and child health facility that accommodates about 31, 200 people from around the four catchment communities around the health facility.
MNCH2 is currently supporting about 264 health facilities across the 44 local government areas of Kano state with capacity building, empowerment, commodities and equipment to ensure that the health facilities meet the minimum national standard of health service. The health facility also serves as a training centre for the MNCH2 programme where health service providers conclude their training with practical lessons on the MNCH trainings.
The Medical Director of the health facility conducted the team on a tour of the labour ward, the theatre and the ANC unit, where the British High Commissioner was fascinated by the singing of the ANC clients which he recorded on his mobile phone and asked for a translation. He was also more fascinated when he met the Traditional Birth Attendants (TBA) who have been incorporated into the health facility. The TBAs are from the four catchments that surround the health facility and their capacity to convince clients to attend ANC and delivery in the health facility is commendable.
The British High Commissioner also had detailed meetings with the acting National Team Leader of the MNCH2 programme, the MNCH2 State Team Leader, the Kano state Executive Secretary of the Kano State Hospital Management Board (HMB) and the Medical Director of the Bamalli health facility.