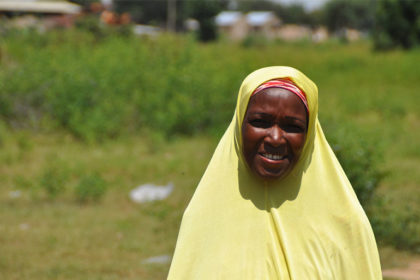 For a woman in northeast Nigeria, peace is not enough
November 25 marks the International Day for the Elimination of Violence against Women. According to UNFPA all forms of violence against women and girls increase during disasters and displacement. Sixty percent of all maternal deaths in the world happen in countries that have been affected by conflict or disaster. The devastation inflicted by the insurgency of the anti-education extremist group Boko Haram in Northeast Nigeria has contributed to the already high maternal mortality rates in Northern Nigeria due to the lack of quality health services, as well as cultural norms, such as early marriage (recognised under international human rights law as a harmful practice putting girls in risk of sexual, physical and psychological violence).
MNCH2 has been working in the state of Yobe, about one hundred miles from the epicentre of the insurgency. As the security situation has improved, the programme has for the first time been able to bring community interventions such as 'safe spaces' (SSI) for women and girls and antenatal care (ANC) in places completely destroyed during the years of violence, such as the community of Katarko.
Amina got married by the time she was 14 and her oldest child is 16, so she must be around thirty, she calculates. Her yellow hijab hides a seven-month bump, her seventh pregnancy. She is attending antenatal care at a temporary tent pitched in front of the ruins that were once a health facility.
Amina gave birth to her first children alone at home.
They were painful experiences.

Amina
She was still breastfeeding when Boko Haram attacked the village and abducted her. She recognised one of her capturers as a local boy. They kept her and three of her youngest children indoors for a month. After refusing to respond to her capturers' demands to marry one of them, inexplicably, she was eventually returned home.
Two years later, Amina is rebuilding her life in the community – while many things have changed, much has stayed the same. Her daughter is preparing to get married. She is also 14.
I will never forgive them for what they did to my family. But now, I just hope for peace …and interventions that will improve our lives.

Amina