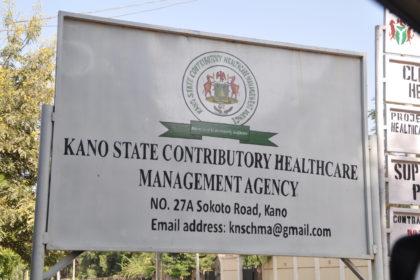 With over 9.4 million inhabitants (National Population Census, 2006), Kano is the most populous state in Nigeria. The state has over 1,200 health facilities, a vibrant agricultural sector and serves as a centre for commerce for the northern part of the country. However, maternal, infant and child mortality rates alongside other health indices remain some of worst in the country with quality health care services mainly concentrated in the urban areas despite a predominantly rural population.
Prior to 2017, health care financing was mostly through out-of-pocket expenditure (about 72%) and therefore catastrophic for the majority of the population (76.4% living below $1/per day)[1]. Budgetary allocation for health from the government was also as low as 8.3% in 2015 – way below the 15% minimum recommended under the African Union's Abuja Declaration of April 2001.
Until recently, efforts by the State Government and partners to promote health care financing through predictable sourcing, pooling and risk sharing have been met by religious and sociocultural beliefs that frown at the concept of insurance. However, a ray of hope was rekindled when the Nigeria Maternal, Newborn and Child Health programme in Northern Nigeria (MNCH2) in collaboration with the National Health Insurance Scheme (NHIS) and other partners supported the government to engage a wide range of stakeholders including legislators, labour unions, religious and traditional leaders through roundtable discussions, sensitisations and advocacy. These engagements culminated in religious leaders' concurrence and admission that the concept of the scheme is nothing but a system of helping one another, which is a cardinal principle of Islam. Thus, 'contributory' replaced 'insurance' and the Kano State Contributory Healthcare Scheme, recipient of mass appeal and acceptance, was born.
Together with the NHIS and civil society organisations, MNCH2 further provided technical assistance for the drafting of a bill for the establishment of the Kano State Contributory Healthcare Management Agency (KSCHMA) and conducted wide stakeholder engagement with sensitisation sessions for legislators, organised labour and communities to advocate for its passage and assent. After the passage of the bill and its assent by the State Executive Governor in 2016, MNCH2 also provided support for the development of operational guidelines and a benefits package for the scheme. Orientation sessions were also held for both the Governing Board and Management Team of the agency at the inception of the scheme. The programme is currently in the final stages of supporting the agency to conclude an economic and financial modelling of the scheme, which is expected to provide further guidance and recommendations to ensure its sustainability.
With one billion and two hundred million Naira (N1.2 billion) already paid as capitation and over 260,000 enrolees accessing services, the KSCHMA is already a success story and serves as a model for other states in Nigeria in the quest for universal health coverage.